What we do is Pasta machines!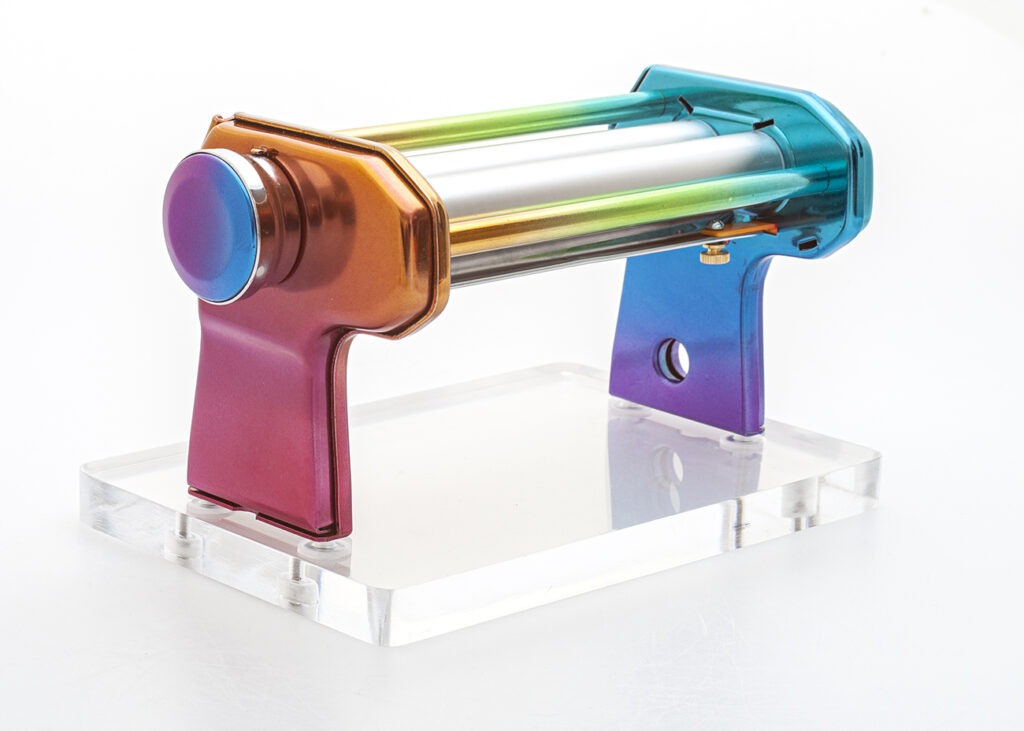 The Workflow…
We order new rollers directly from Marcato.

Mostly 180 models.
Predominately in cases of 6, that's how they ship from Italy.
Shipping is way easier with a case and involves less interaction with each machine!
Worth noting *ALL* new machines have motor mounts. You can easily add a motor at any time.

After they are shipped to me I disassemble the unit and thoroughly clean everything. Oils, dirt, grease, etc will contaminate the coating process and cause major problems!
Powder-coated in your colors!
Reassembly is done and tested.
I attach a 6″ x 9″ x 3/4" (152 mm x 228 mm x 19 mm) clear Plexiglass base plate
Boxed up and Shipped to you!
The color range is very diverse, I use a powder coating. We found the candy-colors work super good and show a strong metallic addition. Some may find the 9,000+ colors available (this include the mattes, dormant and various other types) overwhelming.
Adding a sparkle effect to most colors is not a problem to do.
Colors I currently have available are:
Sour Apple Green.
Emerald Green.
Candy Apple Red.
Candy Purple.
Candy Grape.
Candy Orange.
OSU Candy Orange.
Candy Burnt Orange.
Raspberry.
Hot Candy Blue.
Candy Teal.
Arizona Turquoise.
Prismatic Universe.
Saffron Yellow.
Blueberry Starburst.
Grape Starburst.
Acai Starburst.
Clear Starbright.
Mirror White.
Wet Black.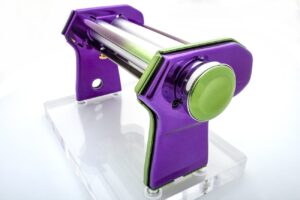 Color selection can be one color or two colors. The two colors can be Color A on one side and Color B on the other, Color A on the inside plate and Color B on the outside plate or some combo that you desire.
Many other colors available to and many more that are non-candy colors.
Candy colors are clear coat with a hint of dye which shows the metallic base of the pasta machine.
The non-candy colors will not have the metallic base visible and may appear flat, matte or less glossy.
If you are looking for a specific color, A color that I have not listed or anything else please send me a message and I will see what I can find and what is available! We are always looking to add more colors.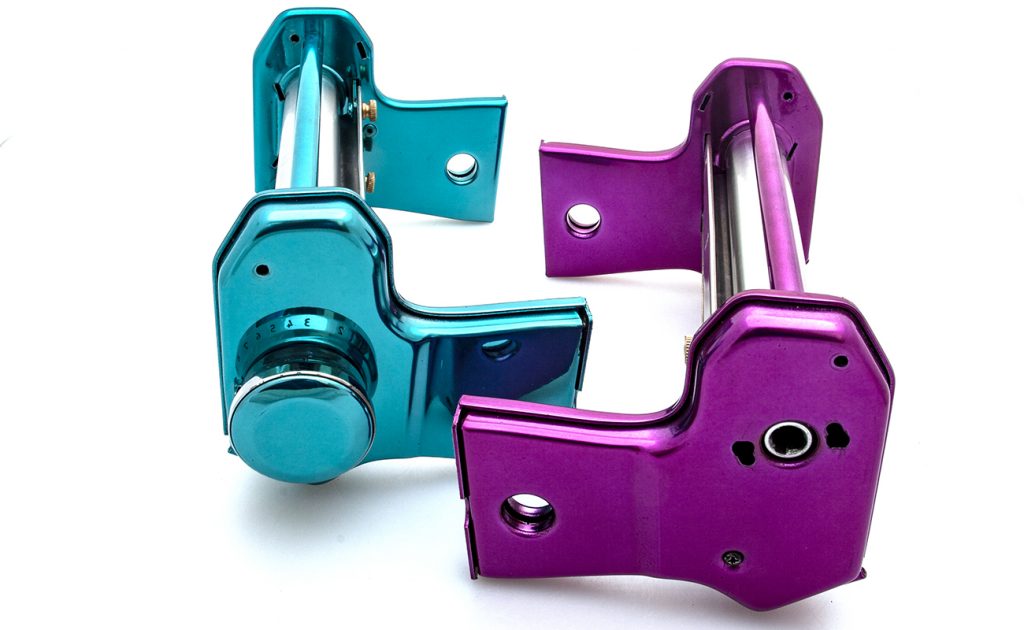 We ship the plain 150's and 180's in a USPS Medium flat rate box. Residents of Alaska, Hawaii, APO's, etc enjoy the same domestic shipping prices.
International shipping will need to be calculated based on location and weight. Average listings seem to be between $60 – $90 for shipping. The grand total of everything would be approximately $240-$270 US. We would need to use the address to determine the shipping cost.
Showing the single result